Regular price
$155.00 USD
Regular price
$165.00 USD
Sale price
$155.00 USD
Unit price
per
Sale
Sold out
Revolutionize your skincare routine with the Wellness Wand, a cutting-edge device that combines four scientifically proven technologies in one. This all-in-one marvel uses red light therapy, soothing vibrations, gentle warmth, and microcurrent technology to address fine lines, puffiness, blemishes, dullness, and signs of maturing skin. Say goodbye to complicated routines and hello to radiant, youthful skin effortlessly. Join the beauty revolution and experience a more confident, glowing you today!
Share
Technologies

LED technology bathes your skin in the revitalizing glow of red light, initiating a transformative rejuvenation process. This dynamic process actively encourages the emergence of youthful, radiant skin, effectively diminishing the appearance of wrinkles, fine lines, and a variety of imperfections.

The gentle warmth provided to your facial skin serves a dual purpose. Not only does it enhance the overall experience, but it also offers the benefit of temporarily reducing skin puffiness (inflammation).

The subtle vibrations imparted by our device deliver a soothing massage, aiding in the reduction of puffiness and elevating your skin's innate radiance.

Microcurrent technology operates on a subtle electrical level, working to tone and rejuvenate your facial skin. This gentle yet effective approach helps enhance skin elasticity, reduce fine lines, and promote a more youthful appearance.

Designed for your comfort and convenience, our ergonomic device is portable, ensuring you can enjoy its benefits at home or on the go, making it an ideal travel companion. The 360-degree swivel head adds a personalized touch, allowing for customized and comfortable use. Plus, its magnetic charging feature adds ease to your routine.
Benefits

Reduces the appearance of fine lines & wrinkles
Improves skin firmness &texture
Enhances collagen production for plump & firm skin
Improves skin tone
Fades blemishes
Boosts serum & cream absorption
Reduces Puffiness (inflammation)
How to use

Wellness Wand is best used after your daily skincare routine:

Wash your face, apply moisturizer or serum and then begin your session. 
Align the head in the best direction for your ideal skin contact. 
Touch the wand to your skin to activate. 
Press the wand gently against the targeted treatment area for 10 seconds, repeating up to 3 times in a session.
Repeat the process for other treatment areas: Complete session can last up to 5 minutes. 
View full details
Illuminate Your Routine
Experience daily skin care perfection with the Wellness Wand, your all-in-one solution for radiant skin.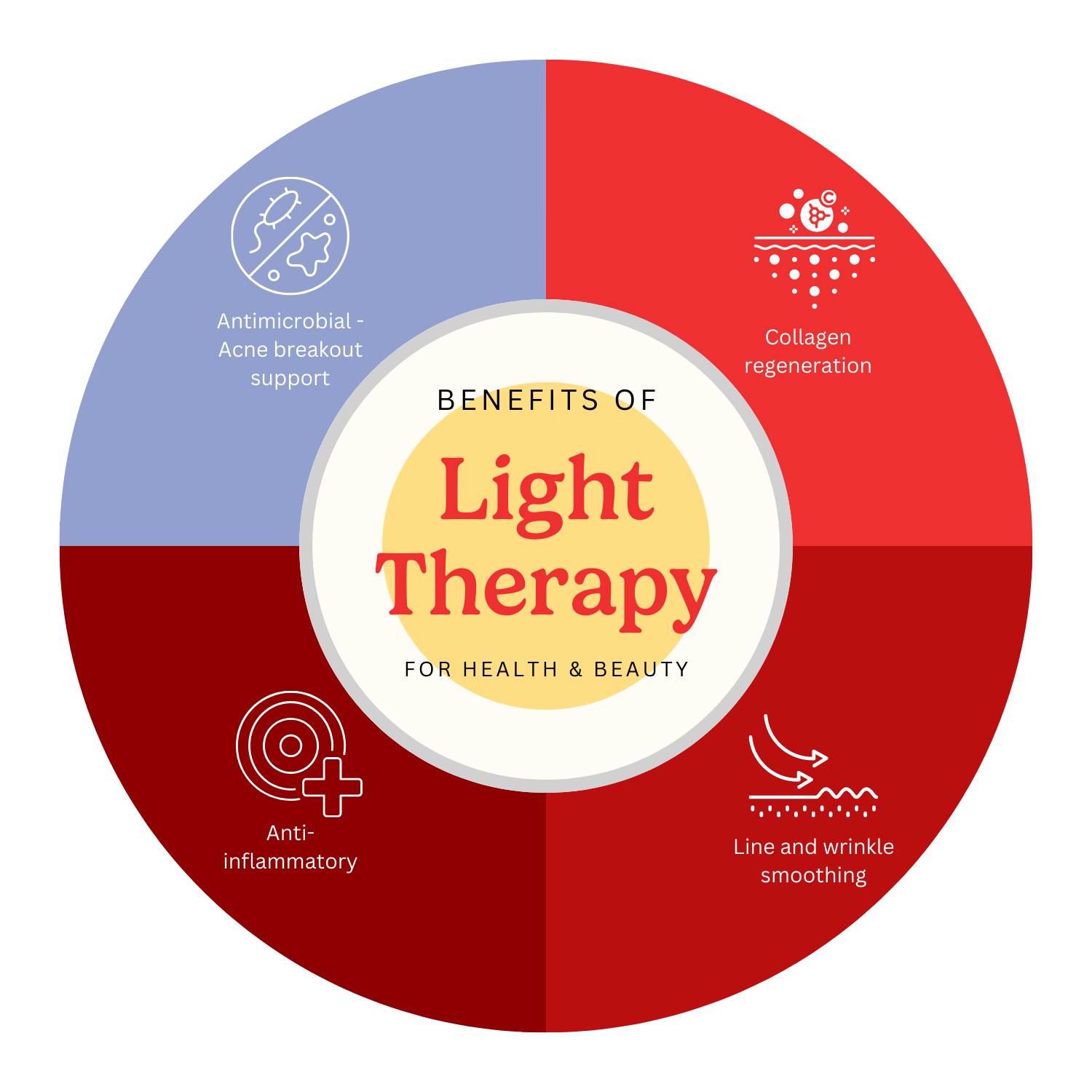 Illuminate your wellness routine!
Discover the transformative power of targeted light therapy for both health and beauty.
Our cutting-edge devices harness the precise wavelengths of light to stimulate natural healing, accelerate recovery, and rejuvenate your skin.
Experience the science-backed benefits of this non-invasive technique, enhancing your overall well-being and unlocking your radiant potential.
Check out our other wellness light products!
Regular price

$155.00 USD

Regular price

$165.00 USD

Sale price

$155.00 USD

Unit price

per

Regular price

$300.00 USD

Regular price

Sale price

$300.00 USD

Unit price

per

Regular price

$295.00 USD

Regular price

Sale price

$295.00 USD

Unit price

per